New Travel Blog: 250cc Superhero

A few people have already heard the news, so let's make it official. I've started a new blog called 250cc Superhero (a spin on 50cc Superhero), journaling my summer travel plans: I'm taking my scooter across country!
What does this mean for Jellycity.com? Well, the store will be on hiatus starting April 21, when stock goes is in storage. Aside from that, there are actually a few new illustrations in the works that will be updated before embarking on my very long scoot. I'll still be in touch via email and social media, but for daily updates please visit 250cc Superhero. Yes, I said daily. I'm quite ambitiously aiming to make a drawing for every day I'm on the road.
This should be exciting in many ways! Lots more information on the blog so I hope you check it out, and enjoy my ramblings and wanderings.
– March 30, 2014 | Permalink
More 50cc Comics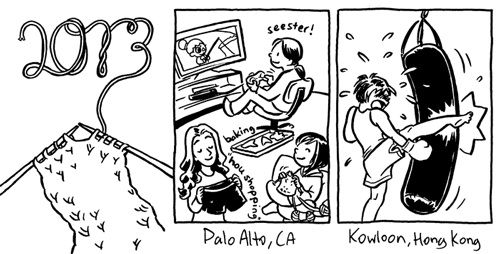 Happy new year! Oh wait, it's March already. It's been busy around here, with work on a yet-to-be-unveiled new picture book and other highly sensitive plans (hee hee)! I'm back from Hong Kong, but I've somehow neglected to update the website with the new comics at 50cc Superhero. In case you haven't caught up, you can read about my bikes, oysters, and a little overview I did for 2013, among other things.
– March 21, 2014 | Permalink