DC Scooter Trip, April 12-19, 2012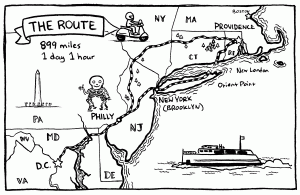 I finally gathered some drawings from my first long scooter trip over a year and a half ago, and made an effort to write it into something cohesive!  Check it out on Tumblr.
It was surprisingly hard to write about my experience — mostly to gauge what might be both interesting and relevant enough to be included, and that I was willing to share, and without being overly texty.  In the end though, not going to complain if you just want to look at the pictures.
– November 19, 2013 | Permalink