Climbing in a dress
Comic about my urge to stand on (often tall and precarious) things.
– June 20, 2013 | Permalink
Sleeping is nice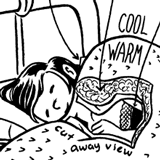 The weather has been very favorable for sleeping recently. Click for comic.
– June 10, 2013 | Permalink
Mouse posters and postcards back in stock

If you were waiting on them, posters of the sparring mice and postcards of mouse style training are now back in stock at the store.
– June 4, 2013 | Permalink