Such A Little Mouse on shelves!
I'm still on my epic scooter trip, even when Such A Little Mouse hit the shelves. Head to the Books page to see some of the interior spreads! There's also a sneak peek at the cover of the final installment in the Mousenet trilogy: Mousemission.
Even if updates aren't as common here, you can follow me on my journey at 250superhero.blogspot.com.

– June 5, 2015 | Permalink
New Illustration
New illustration in the Gallery. This was a personal commission of a friend's son and their cat on a Vespa Sprint, completed before I left RI and finally appearing in the gallery now!
– February 5, 2015 | Permalink
Updates From The Road

Hello from the west coast! The scooter trip is going swimmingly. 13,000 miles later, I made it to the Pacific and combed my way down the coast. It looks like I'll be staying in the Bay Area for the winter. In case you're not caught up, you can follow my travels at 250superhero.blogspot.com. Since May 5th, 2014, I've been taking my Vespa GTS 250 across the US, and posting a drawing for every day I'm on the road. Yup, daily drawings (I can hardly believe it myself).
Now that I'm settled in for the winter though, I've had a chance to update the website a little. As you may have noticed, the store has gone on hiatus, since my stock is packed away in storage in RI. More excitingly though, I have a few new pieces in the gallery. My favorite is between the sweet and simple Sass and Hamisher homage to Bill Watterson, or the illustration for the inside cover of SpongeBob Comics #34. It's great working with Chris Duffy again, and super fun to draw Spongey in my 'cute' style!
– November 18, 2014 | Permalink
The Last of the Minis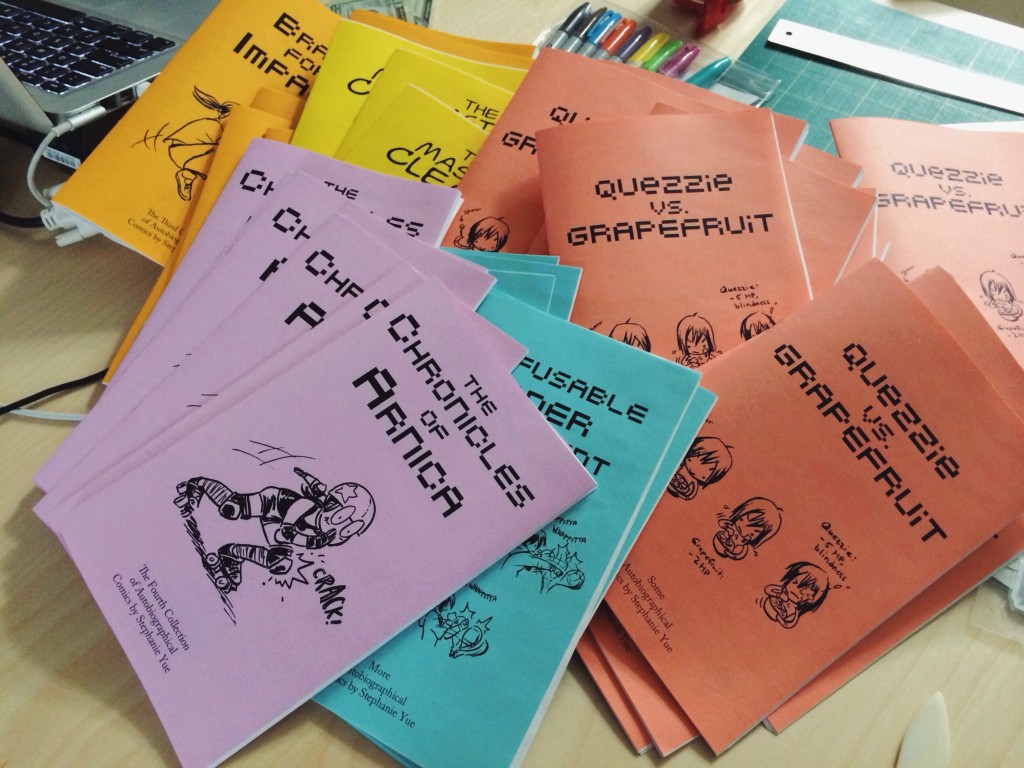 I'm busy packing up for the epic scooter trip, and after much debate I've decided to stop printing my current minicomics. It's been a good run, but the potential of a mobile life is looming and paper is heavy and bulky. Also, many of the comics are quite dated now (Quezzie vs Grapefruit was put together 8 years ago, when I was still in school!). This year I won't be able to make it to any comics festivals where the minis would be available, but really, the income from $2 minis is quite negligible compared to the effort of putting them together and maintaining a stock. It was always a labor of love, and lately my love has wandered.
So today I've printed and assembled the last batch of autobiographical minis until further notice, 20 copies of each, and found a home for the leftover paper with a friend and origamist. They'll be available through the online store, or you may possibly find a few lingering copies at Jim Hanley's (NYC), Forbidden Planet (NYC), or Chicago Comics (just off the top of my head). Perhaps new minis will come together in the future, but it's that bittersweet time to retire this collection. Long live mini comics.
– April 21, 2014 | Permalink
New Travel Blog: 250cc Superhero

A few people have already heard the news, so let's make it official. I've started a new blog called 250cc Superhero (a spin on 50cc Superhero), journaling my summer travel plans: I'm taking my scooter across country!
What does this mean for Jellycity.com? Well, the store will be on hiatus starting April 21, when stock goes is in storage. Aside from that, there are actually a few new illustrations in the works that will be updated before embarking on my very long scoot. I'll still be in touch via email and social media, but for daily updates please visit 250cc Superhero. Yes, I said daily. I'm quite ambitiously aiming to make a drawing for every day I'm on the road.
This should be exciting in many ways! Lots more information on the blog so I hope you check it out, and enjoy my ramblings and wanderings.
– March 30, 2014 | Permalink